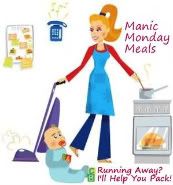 >
On a request from Rick I have made a "just meat dish" hehe well it's not a simple dish but it's still in a form that he likes so he actually enjoyed this one! :) Then since my family won't eat left overs I found a way to remake them into a form they would eat! Hope you enjoy!
~~~~~~~~~~~~~~~~~~~~~~~~~~~~~~~~~~~~~
by CD Kitchen
Ingredients:
2 eggs, slightly beaten 1 pound bulk pork sausage, spicy 1 pound very lean ground beef 1/4 cup chopped onion 1 cup quick-cooking oats 2 teaspoons garlic salt 1/2 teaspoon ground cumin 1/2 teaspoon ground coriander 1 cup shredded cheddar or Monterey jack cheese 1 cup chunky salsa salsa for topping, optional Cheese for topping, optional
Directions:
Heat oven to 350F. With hands, gently combine all ingredients except topping options in a mixing bowl. Shape into a loaf and place in baking dish or loaf pan; bake for 1 to 1-1/2 hours, until cooked through.
ALEXIS NOTES: I used all ground beef (what I had on hand), used my chopped onion in a can since I had no onions on hand, garlic powder with onion salt (yup figure a merge of the two would equal the garlic salt) and Mexican cheese.
~~~~~~~~~~~~~~~~~~~~~~~~~~~~~~~~~~~~~~~~~~
Then the next night with my half of meatloaf left over I did this:
by Busy Cooks
Ingredients
16 oz Spaghetti or linguine
left over meatloaf, any quanity
26 oz pasta sauce
1/3 cup water
1/2 cup Parmesan cheese
ALEXIS NOTES: Prep like you normally would, I took my special meat masher from pampered chef to to crush up the meatloaf. Add the sauce and cooked the noodles. Served with some steamed broccoli.
Happy Monday Everyone!!! We got home late Sunday night as usual so I'm always in a panic for a great easy meal on Mondays, hope you like and make it.