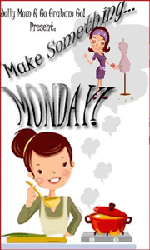 I know I'm crazy with these quiche's lately but I just love them. Thank you Kristie you got me hooked ... LOL. I think the boys may be a little over it, but I'm not and I'm the mommy ... LOL.
For my non bacon lovers (AMY) yes you can use turkey bacon ... LOL
What you need
Add Broccoli and Onions to Pie Crust
Add some baccon
In bowl add eggs
Helper shows up to add milk
Add salt
Add Ceyenne Pepper
Yes he's holding on to his DS (like someone may steal it)

Add egg mixture to pie
Isn't that just yummy looking!
Directions
Heat oven to 425°.
Prepare pastry for one-crust pie (if using mix or homemade crust recipe) and bake as directed in 9" pie plate or quiche pan.
Layer bacon, onion, broccoli and cheese evenly over bottom of pie crust.
Mix together remaining ingredients.
Beat well to really mix the eggs using a whisk or blend in the blender at low speed.
Pour over other ingredients in pie crust shell.
Bake for 15 minutes.
Reduce the heat to 300°.
Bake quiche 30 minutes longer or until knife inserted in center comes out clean.
Let pie stand for 10 minutes to cool before cutting.