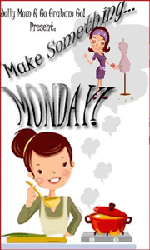 Today I'm going to show off a recipe that I used one night as a taco and the next night I took the chicken mix and made a Round 2 Recipe (shout out to Sandra Lee for that name) of Enchiladas. I'm horrible I make a meal and Rick and I will eat a good amount but of course the kids eat a little then I have this meal left over, now left overs are not a huge hit in my house. I usually take left overs to the babysitter but since we don't go to the babysitters a lot these days I'm left eating the left overs myself :(. So when I made this Mexican Corn and Bean Chicken in the crockpot I found the BEST of two meals!
Mexican Corn and Bean Chicken
Mexican Corn and Bean Chicken
What You Need:
4 chicken breasts, boneless and skinless
1 (16 oz) jar Mexican salsa
2 tsp garlic powder
1 tsp cumin
1 tsp chili powder
1/2 tsp salt
1/4 tsp pepper
1 (11 oz) can Mexican corn
1 (15 oz) can pinto beans
How to Make It:
Place the chicken and salsa into the bottom of the crock pot.
Add the garlic powder, cumin, chili powder, salt and pepper.
Cover and cook on low 4 hours.
Remove the chicken and allow cooling slightly.
Shred the chicken.
Add the chicken back to the crock pot.
Cover and cook on low 2 hours.
Stir in the corn and beans.
Cover and continue cooking 1 hour.
Tip: Make this a real Mexican meal by adding tortilla chips before serving. Top with sour cream or guacamole as a garnish.
I made this and used as a filling for tacos!
Round 2 Recipe (thank you again Sandra Lee)
Mexican Corn and Bean Chicken
For this I used the filling for a sour cream enchilada. Of course I didn't have taco season so I used chili mix (LOL) added sour cream and cheese! I poured it over the top baked it at 350 for 25 minutes. I used fat free sour cream and 96% Fat Free Whole Wheat Tortillas.
ALEXIS NOTE: Make sure to use a crockpot liner they are cheap and they save you a headache of cleaning your crockpot! You'll love them I promise!!!
Enjoy I hope you make it and love it like I did! I'm also going to share this for Crockpot Wednesday!