Wow I'm pooped Saturdays party was so busy we got home late and a little heat stroke and burned then Sunday just spent so here is one of my recipes I had in my reserve :). Hope you enjoy!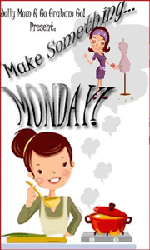 This is one of my favorite recipes that I usually will do once a month, simple and very inexpensive. Plus the kids love it, you know Mr. Cole who gives me a hard time each night actually had 2 helpings!!! Super simple and always have the stuff in the house, plus I buy the ground beef in bulk cook it up for 2 meals. Got to love it! Enjoy!

What you need
Brown the meat put in a casserole dish
Add a can of green beans.
I found this new style that had pepers in it very yummy.