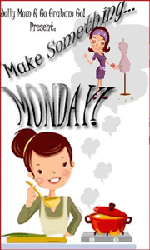 I can't tell you how much fun I've had with this gift basket! You know how I love making fun stuff that is quick and easy. Now you throw in a crock pot and you've made my day! As promised to Cole I'm making Chili and yes he took the left overs to school for lunch the next two days! He loved it!!! Not sure you wanted to be around him after he ate chili (I'm not claiming this talent it's all Rick) ... LOL :) The musical fruit ... oh boy I'm done going loopy!
Me and my gift basket!
Here is what you need!
Very Simple and super yummy!!
Yes it's called Easy Slow-Cooked Chili for a reason!!!
This recipe is super simple and the added French's onions in the slow cooker and then topped with it when dished up gives it a new dimension. See I told you I've been watching the Food Network too much! Enjoy, remember it's easy to make up a new recipe with what you have in your cabinet. Believe it or not I had all the stuff for this! My moto is no running to the store use what you got!!!
Ingredients:
2 lbs. lean ground beef
2 tbsp. chili powder
1 tbsp. ground cumin
1 can (28 oz.) crushed tomatoes in purée
1 can (15 oz.) red kidney beans, drained and rinsed
1 cup water
1/4 cup FRANK'S® REDHOT® Original Cayenne Pepper Sauce
2 cups FRENCH'S® French Fried Onions, divided
Directions:
COOK beef, chili powder and cumin in large nonstick skillet over medium heat until browned, stirring frequently; drain. Transfer to slow cooker.
ADD tomatoes, beans, water, Frank's RedHot Sauce and 1/2 cup French Fried Onions. Cover and cook on LOW setting for 6 hours (or on HIGH for 3 hours).
TOP chili with remaining onions. If desired, serve with sour cream and shredded cheese.