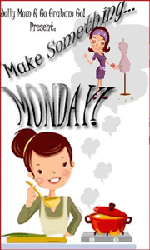 I found a recipe on BettyCrocker.com and did my own little twist on it. It calls for processed cheese sauce, not a big fan so I use real cheese. Also frozen veggies and I had peppers already here. Next time I'm going to cut down the Bisquick to 1 1/2 cups same milk and egg and I'll saute the veggies. Live and learn :). Another quick and easy one to try out!
What you'll need
(see ground beef I cooked up enough for two meals, makes the next night a breeze)
Add ground beef and pepper and onions
In bowl add Bisquick
Add Milk & Egg
I added a little garlic
Again would have been better if all this was sauteed.

Add some cheese
Add the Bisquick
Out of the oven all golden brown.
Here is your neat little square!
Ingredients:
1 1/2 teaspoons dried minced onion (I diced up a real onion)
1 lb lean (at least 80%) ground beef
3/4 cup cheese dip (from 15-oz jar) (I used real cheese)
2 cups Original Bisquick® mix (I suggest 1 1/2 cups)
1 cup milk
1 egg
2 cups frozen bell pepper and onion stir-fry, thawed, drained (Again I used fresh veggies)
Directions:
1. Heat oven to 375°F. Spray 8-inch square pan or 2-quart glass baking dish with cooking spray. In small bowl, cover onion with hot water.
2. In 10-inch skillet, cook beef over medium-high heat 5 to 7 minutes, stirring occasionally, until brown; drain. Stir in cheese dip. Cook 2 to 3 minutes or until hot.
3. In medium bowl, mix Bisquick mix, milk and egg until blended. Pour half of the batter into pan. Top with beef mixture and bell pepper mixture. Pour remaining batter evenly over top. Drain onion; sprinkle over batter.
4. Bake 40 to 45 minutes or until golden brown and center is set. Let stand 5 minutes before cutting into squares. If desired, heat leftover cheese dip as directed on jar and spoon over each serving.
High Altitude (3500-6500 ft): Bake 42 to 47 minutes.