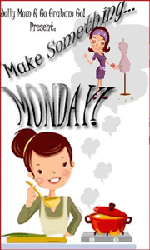 Yummy new pot roast in the crock pot to try! Friday's is movie night here and my girlfriend Tarra and her daughter usually come over (yup I'm calling her out since she was a no show ... lol). So since I didn't know we would have less people I made a big meal in the crock pot in the am .. ha-ha just playing left over are cool around here. Especially one that was this yummy. I found an amazing recipe that when I got home from work yesterday made the house smell so good and then we ate it, oh yeah it was to die for! Check it out
Crock Pot Sweet and Sour Roast
.
So of course I start this on my very bad Friday the 13th morning, running VERY late, so I had to do some shortcuts and not do it exactly like how the recipe called for it! First off you're suppose to peel and cut the potatoes, yup not happening. They are really small so I knew we would be fine when I came home 10 hours later! The recipe also calls for browning the meat and saute the onion, again something that so wasn't happening! I'm very happy to say it turned out wonderful and no one seemed to complain, hey Mr. picky kid actually had seconds. As many of you know pleasing that kid is almost impossible!
Easy ingredients, I actually had all this on hand.
Throw the meat and potatoes in the crockpot.
Darn forgot the liner and I'm running late so we're going with it.
Slice up the onions and throw them in.
The whole time hold Caden back that just knew he wanted to bite one!
A can of Diced Tomatoes
1/3 cup of brown sugar (thank you Xmas Cookies, I had this)
2 tablespoon of Worcestershire Sauce
2 tbs of Apple cider Vinegar (the only kind I have)
1/2 teaspoon of Salt
A quick stir and put the lid on!
Put on low! And run to work!
I've been asking for the digital one for years, maybe before I die.
I could always accidentally drop this one! LOL
Come home 10 hours later!
OMG the amazing smell when I opened the door!
Isn't that pretty!
I asked Rick to put the left over in the fridge.
I woke up to find the pot washed! Yeah guess that was my Valentine Present .. LOL
Ingredients
4
potatoes
, quartered
1
boneless beef chuck roast
(3 lbs)
1 tablespoon oil
1 cup chopped
onion
1 (14 ounce) can
diced tomatoes
1/3 cup
brown sugar
2 tablespoons
Worcestershire sauce
2 tablespoons
cider vinegar
1/2 teaspoon
salt
Directions
1. Place potatoes in crock pot.
2. Cut roast into 6 serving pieces.
3. Brown roast in hot oil in a skillet.
4. Put roast on top of potatoes.
5. Add onions to skillet; saute 1 minute.
6. Add remaining ingredients and mix well.
7. Pour over roast in crock pot.
8. Cook on low for 7-8 hours, until meat is tender.