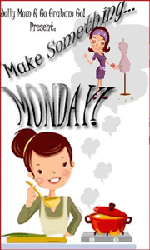 Since hubby missed my Valentines scones I had to do a make-up breakfast the following day, so I made Belgian Waffles and get this guys I made it from scratch! I know I shocked myself too, yup I was out of Bisquick ... LOL. And it actually didn't take that much to do them from scratch and they were very yummy. I couldn't get over how light and fluffy they were. Check them out, yes I'm pretty proud of myself ... LOL
I've had this for years and I'm now just using it.
Ok let's Start
1 3/4 Cups of Flour
1 tbs Baking Powder
1/4 tsp Salt
Make a well in dry mixture
2 Egg Yolks & 2 Egg Whites Seperated
Add 1 3/4 cup of milk to egg yolks (yes the yellow)
Add 1/2 Cup Cooking Oil
Addd egg yolk mixgture to dry mixture
Stir till moist should be lumpy
Beat egg whites till stiff peaks form
Ok I must admit this is the 1st time I've done this ... LOL
It took a while for this inpatient person
Check out those stiff peaks. Yes I'm proud of myself.
Fold Egg Whites into flour/egg yolk mixture.
Best Waffle Recipe Ever
Courtesy of
Better Homes and Gardens Cookbook
1 3/4 C. All Purpose flour
1 T. Baking Powder
1/4 t. Salt
2 egg yolks
1 3/4 C. Milk
1/2 C. cooking oil
2 egg whites
In a medium mixing bowl stir together flour, baking powder, and salt. Make a well in the center. In another bowl beat egg yolks slightly. Stir in milk and oil. Add egg yolk mixture all at once to the dry mixture. Stir just till moistened (should be lumpy).
Now the important part. In a small bowl beat egg whites until stiff peaks form (tips stand straight up). Gently fold egg whites into flour and egg yolk mixture, leaving a few fluffs of egg white, DO NOT OVERMIX. And proceed to make your waffles, about a cup of mixture to make a waffle. Good luck