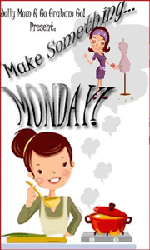 Today I bring you a recipe that I did for the boys last weekend. You know I try to make something yummy and different each time. This weekend it was cinnamon rolls, I used a very simple bisquick recipe that the boys just loved. They were so good I had to take the extra to daycare so I wouldn't eat anymore. they told me the loved them so much they didn't even share with the boys ... LOL. Super easy and yummy enjoy girls!
Here we go, I promise it's easy!
Add Bisquick :)
Add Milk
My helper showed up to add the sugar
Roll out the dough! Ok best as I can get in a square.
Brush on the butter
Mix Sugar
With Cinnamon
Sprinkle all over the buttered dough
Roll up and cut them into rolls
Ready to bake!
Out of the oven
Now for the frosting
Powered sugar and butter
Add the milk
Add the vanilla
Whip it up and it's ready.
Ohhh Laa Laaa ...
Ingredients:
***Rolls***
2 tablespoons sugar
1 teaspoon ground cinnamon
2 1/2 cups Original Bisquick.
2/3 cup milk
2 tablespoons sugar
2 tablespoons butter or margarine
softened 1/4 cup raisins
***Glaze***
1 1/3 cup powdered sugar
2 tablespoons milk
1 tablespoon vanilla

Directions:
For Rolls: Heat oven to 375 F.
Grease bottom and sides of rectangular pan, 13x9x2 inches.
Stir together 2 tablespoons sugar and the cinnamon; reserve. Stir Bisquick, milk and 2 tablespoons sugar until dough forms. If dough is too sticky, gradually mix in enough Bisquick (up to 1/4 cup) to make dough easy to handle. Turn dough onto surface well dusted with Bisquick; gently roll in Bisquick to coat. Shape into ball; knead 10 times. Roll into rectangle, 15x9 inches; spread with butter. Sprinkle evenly with sugar mixture; sprinkle evenly with raisins. Roll up tightly, beginning at 15-inch side. Seal well by pinching edge of dough into roll. Cut into 1 1/4-inch slices; place cut sides down in pan. Bake 23 to 25 minutes or until golden brown. Cool 5 minutes; remove from pan. Spread Glaze over warm rolls.

For Glaze: Stir together powdered sugar, vanilla and milk until smooth.
Heat oven to 400 F. Bake about 20 minutes.