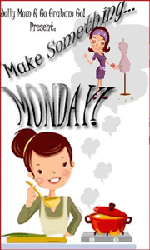 This is super yummy and easy recipe I got once like 10 years ago at a Pampered Chef party. Yup I think I got out of there with some spatula's and wood spoons (the cheapest things I could fine). The funny thing is 10 years later I still have those items and they still work. Go figure! I so would love a few more items, I think I'll check ebay to see if I can find one of those choppers they sale, my girlfriend has one and it rocks! Also my measure spoons got a little close to the stove a melted a little bit ... LOL. Again had them for like 10 years to so I am now falling on sword even those I always complained about going to those parties and feeling oblogated to buy stuff I found out they are actually a really cool company with amazing products. Yes I said it and it's rare you will EVER hear me say I was once wrong, hey it was 10 years ago it won't happen again. Now to see if I can find someone who would like to do a giveaway for Pampered Chef on my site, that would be AWESOME! Ok enough on to my awesome dinner! Recipe at the bottom!
2 Cups of Chicken
I buy canned (oh stop) and then just chop up
.
Chop Broccoli & Red Pepper I also put in a Green Pepper
I know who knew I could use FRESH veggie :)
Mix with Mayo
Add Cheese
Add Dill (this is actually the first time I added, I think I'll skip next time)
Add Salt
Press out Crescent Rolls
I saw they now make square sheets now!
Cut the strips and Pull up the sides
Tie little knots like a pretty braid on top.
Yummy all golden brown out of the oven.
Ingredients:
2 cups cooked chicken
1 cup of chopped broccoli
1/2 cup of chopped red bell pepper
1 garlic clove chopped
4 oz. (1 cup) sharp cheddar cheese shredded
1/2 cup mayonnaise
2 tsp. all-purpose dill mix
1/4 tsp. salt
2 pkgs. (8oz. each) refrigerated crescent rolls
1 egg white, lightly beaten
2 tbls. slivered almonds


Directions: Preheat oven to 375F. Chop chicken and broccoli using food chopper; place in 2 qt. batter bowl. Chop bell pepper using 5" utility knife; add to batter bowl. Press garlic over vegetable mixture using garlic press. Shred cheese using cheese grater and add to vegetable mixture; mix gently. Add mayonnaise, dill mix, and salt; mix well using scraper. Unroll 1 package of crescent dough; do not separate. Arrange longest sides of dough across width of 12" x 15" rectangle baking stone. Repeat with remaining package of dough. Using roller, roll dough to seal perforations. On longest sides of baking stone, cut dough into strips 1 1/2 inches apart, 3 inches deep using a pizza cutter (there will be 6 inches in the center for the filling). Spread filling evenly over middle of dough. To braid, lift strips of dough across mixture to meet in center, twisting each strip on turn. Continue alternating strips to form a braid. Tuck ends under to seal at end of braid. Brush egg white over dough using pastry brush. Sprinkle with almonds. Bake 25-28 minutes or until deep golden brown.Substitute 1 tsp. dried dill weed for The Pampered Chef Pantry All-Purpose Dill Mix, if desired.
Yield: 10 servings Approximately 410 calories and 27 grams of fat per serving