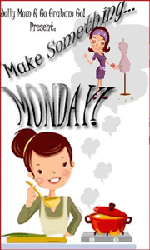 We've been on a bacon kick lately, I know not the most healthy option. Hey every morning we do cereal on Saturdays and Sundays I try to make some home cooked goodness. I found this one in my new best friend The Bisquick Cook Book. It's so yummy, I actually was bad and I'll admit it had two slices. Hey one was for breakfast and one for lunch. And true to form it is quick and easy. Yup the Sandra Lee way!
What you need to start
Add the Bisquick
Add the water
Roll it out into a square.
Hey the best this girl could do.
Spread cream cheese.
Here's the recipe ...
For breakfast, brunch or supper - golden roll-ups with a bacon-double cheese filling.
1 3/4 c. Bisquick baking mix
1/3 c. cold water
1 pkg. (3 oz.) cream cheese, softened
3/4 c. shredded Cheddar cheese
1/2 lb. bacon, crisply cooked and crumbled
1 egg, slightly beaten
1/2 tsp. poppy seed (I didn't use this)
Heat oven to 400 degrees. Grease cookie sheet generously.
Mix baking mix and water until dough forms; beat 20 strokes. Gently smooth dough into ball on surface dusted with baking mix. Knead 10 times.
Roll dough into 12 inch square. Spread cream cheese over square to within 1/4 inch of edges; sprinkle with Cheddar cheese and bacon. Roll up tightly; pinch edge of dough into roll to seal well. Place roll, seam side down, on cookie sheet. Brush with egg; sprinkle with poppy seed. Cut roll into 1 inch slices almost through to bottom, keeping roll intact. Bake until golden brown, 15 to 20 minutes. Immediately cut into slices. 12 rolls.