***UPDATE 6/15/11 I'm going to be picking partners & announce on Saturday, I would love to have a few more plus to even out the # would be great or I may have to have 2 partners .. lol ***
Hey everyone I love swaps and have participated in a few and have seen some pretty creative ones. I was thinking why not throw my hat into the ring and have a swap. Then what do I do? Staring down my feet (for some stroke of genus) and saw flip flops … yup a brain fart came to me like that! Why not have a Flip Flop Swap? So I'm thinking 2 pairs of flip flops (unless you find 1 pair that is the max amount to spend). I'm suggesting a $15 maximum spending and suggest you use USPS small box for cheap mailing. Who would like to participate? I know it's my first swap but I would love to get 20 (if not more) to play along! I hope you all would like to participate!
Now what you need to do, sign up with the linky below. I need your email address, Shoe Size and Favorite Colors. Give anything else you want your partner to know.
Please put up my button on your site, and if you like you can blog about it heck I'll give you a big hug if you do …
.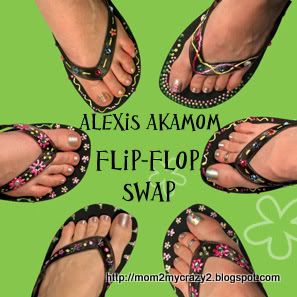 <a href="http://mom2mycrazy2.blogspot.com/"><img src="http://i240.photobucket.com/albums/ff279/alexispeloquin/flip_flops1.jpg" border="0" alt="Photobucket" border="0" alt="Running Away"></a>