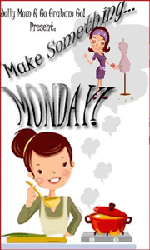 Quick fix meal! This is another recipe I printed months (ok maybe a year ago) and never did anything with. Wait I'll tell you I did do something with it I put it in the cupboard with the rest ... LOL. So what do you do when it's 6pm and you have already cooked up hamburger. You throw this together! Can you say yummy! Another quick and Semi Homemade meal that is perfect for us busy moms! You'll love this one I promise ;).
What you need to start :)
Cooked hamburger in the bottom of the casserole dish.
Add a can of corn
Add a can of Black Beans
Add a jar of salsa (I love the SW Black Bean and Corn kind)
Helper helps stir the noodles
Noodles Ready!!
Stir it all together.
Add Some Cheese
Put it into the oven at 350 for 30 min
Yummy all ooh gooey and wonderful.
Dish it up and call it a night.
Mexican Pasta Bake
by Betty Crocker
1/2 pound lean ground beef
2 1/2 cups uncooked rigatoni pasta (8 ounces)
1 cup
Green Giant®
Valley Fresh Steamers™ Niblets® frozen
corn
1 jar (24 ounces) Old El Paso® Thick 'n Chunky salsa
1 can (15 oz)
Progresso®
black beans, drained, rinsed
1 1/3 cups shredded Mexican cheese blend (6 ounces)
2 medium roma (plum) tomatoes, thinly sliced


1. Heat oven to 350ºF. Grease 4-quart casserole.
2. Cook beef in 10-inch nonstick skillet over medium heat 5 minutes, stirring occasionally, until brown; drain.
3. Cook and drain pasta in 4-quart Dutch oven as directed on package. Return pasta to Dutch oven. Stir in beef, corn, salsa and beans. Spoon half of the pasta mixture into casserole. Sprinkle with 2/3 cup of the cheese. Spoon remaining pasta mixture into casserole. Place tomato slices on top. Sprinkle with remaining cheese.
4. Cover and bake 35 to 40 minutes or until hot and cheese is melted.