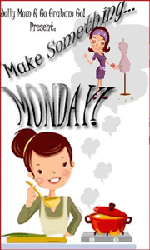 So I thought I would spoil the boys with a little something special for breakfast.
LOL
you really think I went crazy and did a brunch buffet? You silly girls I just did a simple dish the yup you got it Semi-Home made way ...
LOL
This was super easy and jeez the smell of bacon had 2 little ones
staring
at me the whole time I was cooking. They act like they never eat, hello don't they read my Monday posts? Every Monday I show a yummy meal, come on! And I'm happy to report Rick actually ate the WHOLE plate I gave him. Usually when it has biscuit in there he complains its dry and he doesn't like it. Yup you got to love someone who picks apart a meal made for them. Sorry did that sound rude ... ha-ha. Enjoy girls, sorry I've been on a breakfast kick the last 2 weeks, I'll try to post a dinner next Monday.
All you need to start
little helper stopped by, told you it's the bacon smell.
Cut up the apples and add sugar

Add Bisquick (
ok
Wal
-Mart version)
Add Eggs
Add Milk
Pour
Bisquick
mix over apples
Add cooked bacon crumpled over the top
Add Cheese
Put in the oven
At 375 for 30-35 min
Comes out all brown and yummy!
I even got a little bite of this one. Super YUMMY
Ingredients
1 lb
bacon
1 medium unpeeled
cooking apple
, peeled and chopped (1 cup, Rome beauty, golden delicious or greening)
2 tablespoons
sugar
1 1/2 cups
Bisquick
1 1/2 cups
milk
4
eggs
2 cups shredded
cheddar cheese
Directions
1. Heat oven to 375°F.
2. Grease rectangular baking dish 11x7x11/2-inches.
3. Cook the bacon in skillet over medium heat, turning occasionally, until crisp.
4. Drain on paper towels; cool, then crumble bacon into small pieces.
5. Mix apple and sugar and spread into baking dish stir the Bisquick milk and eggs until blended pour over the apples and sprinkle with bacon and cheese.
6. Bake uncovered until knife inserted in center comes out clean.