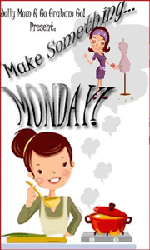 I needed a quick meal for the boys and I came across one I printed out weeks ago.
LOL
sorry I'm just proving Rick right, and I hate that. I have this habit of printing out recipes,
bringing
them home and then they sit there. I'm trying very hard to actually put them to work so here I'm actually proving myself right ...
LOL
take that Rick!
Ok
before you ask yes that is a HUGE pump of Ketchup, I have brought up a boys that love ketchup and I've even got Roy turned into a ketchup fan. Sad I know but heck it gets Cole to eat things if you put a little ketchup on the side.
Ok
back to the recipe of the week, I found this one on Betty
Crocker's
website. I actually get weekly emails from them and this was one of the featured recipes. Super yummy and easy! Which is my main goal on most days! Check it out, Creamy Beef Fold-Over Pie.
P.S. One more fun thing, I was watching Chopped a new show on the Food Network where the chefs are given mystery items that they need to make a meal in 30 minutes. One was a cream of mushroom soup and one of the chefs made the comment that it is for "home cooks" that don't know how to cook. On that note I wanted to tell him where to shove his soup and come to my kitchen after working and drop offs/pick ups and see what gourmet meals he pulls out of his rear oh yeah on a budget.
Stepping
off the soap box :).
Start your engines!
Helper #2 cutting up onions for me.
Brown the meat and add a can of Mushroom Soup.
Add a bag of mixed veggies.
Add a tbsp of ketchup
Start the dough of
Bisquick
(or generic version) and boiling water.
Make a ball of the dough and kneed it 4 or 5 times.
Roll out like a pizza, put on a pizza pan or I love my stone.
Mix the meat mixture with the onions.
Put meat mixture in the middle.
Oops
I think I had a little too much.
Creamy Beef Fold-Over Pie
1 lb lean (at least 80%) ground beef
1 small onion, chopped (1/4 cup)
1 can (10 3/4 oz) condensed cream of mushroom soup
1 1/2 cups Green Giant ® Valley Fresh Steamers™ frozen mixed vegetables, thawed, drained
1 tablespoon ketchup
2 cups Original Bisquick® mix
1/2 cup boiling water
1/4 cup shredded Cheddar cheese (1 oz)
1. Move oven rack to lowest position; heat oven to 375°F. Spray 12-inch pizza pan with cooking spray. In 10-inch skillet, cook beef and onion over medium-high heat 5 to 7 minutes, stirring occasionally, until thoroughly cooked; drain.
2. Stir soup, vegetables and ketchup into beef mixture. Cook 3 to 4 minutes, stirring occasionally, until heated through.
3. Meanwhile, in medium bowl, stir Bisquick mix and boiling water until soft dough forms. On surface sprinkled with Bisquick mix, gently roll dough to coat with mix. Shape dough into a ball; knead about 5 times or until smooth. Roll dough into 14-inch round; place on pizza pan.
4. Spoon beef mixture over dough to within 2 inches of edge. Fold edge of dough up over beef mixture.
5. Bake 24 to 27 minutes or until crust is golden brown. Top with cheese. Bake 3 to 4 minutes longer or until cheese is melted. Let stand 5 minutes before cutting.